SIGN UP FOR UPDATES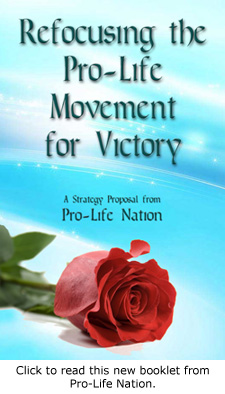 Pro-Life Nation has released a new strategy proposal urging the Pro-Life Movement to refocus its message to ensure victory.
Pro-Life Nation President Troy Newman, along with Senior Policy Advisor Cheryl Sullenger, suggests that the movement emphasize areas where the pro-life side wins the day and less on wedge issues that alienate the majority of Americans who would otherwise identify themselves as "pro-life."
In the booklet, Refocusing, Newman states, "Our mission is not to be morally superior; our mission is to be successful in saving every baby and ending all abortion. Abortion is a brutal act of violence that kills a child. We simply do not have the liberty to settle for our piety when it comes to the matter of abortion. As a movement, we have a moral duty to end this holocaust. Every moment we delay means another child dead. We can no longer resign ourselves to excuses for our lack of success or waste our time on rabbit-trails and failed strategies."
Read "Refocusing" – Pro-Life Nation's groundbreaking new strategy to end abortion!
Pro-Life Nation takes on Washington DC, challenging them to stop borrowing money for baby-killing
Washington, D.C. — With the recent revelation that over a half billion dollars in tax dollars is being funneled from Federal tax coffers to Planned Parenthood last year, Pro-Life Nation calls upon Congress to stop borrowing money from China to pay Planned Parenthood.
Planned Parenthood is the largest abortion provider in the world and received $542 million in taxpayer money last year alone. Their latest annual reports indicate that abortions done by Planned Parenthood have reached an all-time high while "well-woman" services, such as cancer screenings and contraceptive services, dramatically dropped.
"While the amount of legitimate medical services at Planned Parenthood was being slashed, Federal tax dollars – along with the number of abortions – substantially increased. In order to keep paying Planned Parenthood, the U.S. must borrow more money from China, the world's largest human rights abuser where forced abortions and sterilizations continue unabated. This is intolerable," said Troy Newman, President of Pro-Life Nation
Do something about it!
• Contact your Congressman and ask that the Federal Government stop borrowing money from human rights abuser such as China to fund the nation's largest abortion supplier, Planned Parenthood.
• Support legislation in your state to defund Planned Parenthood.