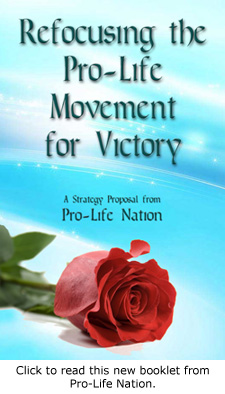 Pro-Life Nation has released a new strategy proposal urging the Pro-Life Movement to refocus its message to ensure victory.
Pro-Life Nation President Troy Newman, along with Senior Policy Advisor Cheryl Sullenger, suggests that the movement emphasize areas where the pro-life side wins the day and less on wedge issues that alienate the majority of Americans who would otherwise identify themselves as "pro-life."
In the booklet, Refocusing, Newman states, "Our mission is not to be morally superior; our mission is to be successful in saving every baby and ending all abortion. Abortion is a brutal act of violence that kills a child. We simply do not have the liberty to settle for our piety when it comes to the matter of abortion. As a movement, we have a moral duty to end this holocaust. Every moment we delay means another child dead. We can no longer resign ourselves to excuses for our lack of success or waste our time on rabbit-trails and failed strategies."
Read "Refocusing" – Pro-Life Nation's groundbreaking new strategy to end abortion!